Hello All,
I have a load of mp4 files which were rendered for about 50mbps, and I cannot play them at this bitrate via our system (a Humax T2 HD recorder with an ethernet port, feeding a Sony TV). The absolute max I can squeeze out of it is 15mbps, which is still ok for quality. They are 1920x1080 50/60fps.
Is there a way to batch process a whole directory, using a fixed output preset like this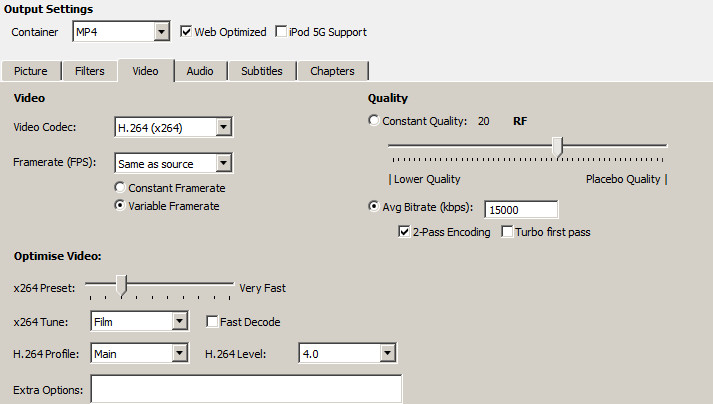 http://peter-ftp.co.uk/screenshots/2018 ... 535215.jpg
and (a) without changing the file names i.e. overwriting the original files, or (b) replacing the original files with "-15mbps" appended to the filename?
I believe the above settings will produce perhaps the best quality, but I am more than willing to be educated there also
File size or processing time are irrelevant. The videos are mostly moving over landscape (from an aircraft) or skiing. The ski ones need a lot of bandwidth, although I can't really tell a difference between 15 and say 30 mbps.
Many thanks for any tips.
BTW the target is a Synology DS216 network drive, mapped to a drive letter under win7-64.