I have an 8 core 2006 Mac Pro, and encodes are only using around 30% of my total processes. Is there a way to max them out? It seems like before I updated to the newest version of the software, it used more of my processing power. Thanks. And I don't know much about how the software works, so I appreciate the kid-glove treatment that you'll have to give me.
In case it matters, I'm encoding my DVDs with the quicktime preset. 2000kbps average bitrate, 2 pass encoding, turbo first pass. MP4, framerate = same as source,
Here's a shot of the window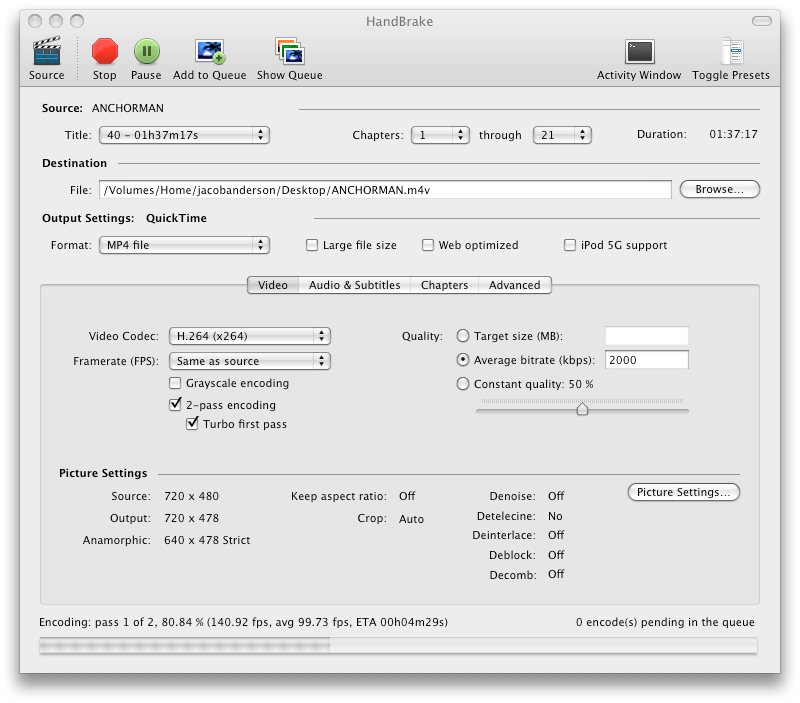 The first pass uses very little processor, and the second pass uses more...
Code: Select all
HandBrake Activity Log for /Volumes/Home/jacobanderson/Desktop/ANCHORMAN.m4v: 2009-05-11 16:18:58 -0500
Handbrake Version: 0.9.3 (2008112300)

[16:18:58] macgui: Rip: Pending queue count is 0
[16:18:58] macgui: Rip: No pending jobs, so sending this one to doAddToQueue
[16:18:58] macgui: Rip: Going right to performNewQueueScan
[16:18:58] macgui: scanning specifically for title: 40
[16:18:58] macgui: performNewQueueScan currentQueueEncodeIndex is: 0
[16:18:58] hb_scan: path=/dev/disk3, title_index=40
[16:18:58] scan: trying to open with libdvdread
[16:18:59] scan: DVD has 63 title(s)
[16:18:59] scan: scanning title 40
[16:18:59] scan: opening IFO for VTS 8
[16:18:59] pgc_id: 1, pgn: 1: pgc: 0x16e35710
[16:18:59] scan: vts=8, ttn=1, cells=0->20, blocks=0->2359874, 2359875 blocks
[16:18:59] scan: duration is 01:37:17 (5837176 ms)
[16:18:59] scan: checking audio 1
[16:18:59] scan: id=80bd, lang=English (AC3), 3cc=eng ext=0
[16:18:59] scan: checking audio 2
[16:18:59] scan: id=81bd, lang=English (AC3), 3cc=eng ext=0
[16:18:59] scan: checking audio 3
[16:18:59] scan: id=82bd, lang=Francais (AC3), 3cc=fra ext=0
[16:18:59] scan: checking audio 4
[16:18:59] scan: id=83bd, lang=English (AC3) (Director's Commentary 1), 3cc=eng ext=3
[16:18:59] scan: checking subtitle 1
[16:18:59] scan: id=20bd, lang=English (Closed Caption), 3cc=eng
[16:18:59] scan: checking subtitle 2
[16:18:59] scan: id=21bd, lang=Francais, 3cc=fra
[16:18:59] scan: checking subtitle 3
[16:18:59] scan: id=22bd, lang=Espanol, 3cc=spa
[16:18:59] scan: checking subtitle 4
[16:18:59] scan: id=23bd, lang=English (Director's Commentary), 3cc=eng
[16:18:59] scan: checking subtitle 5
[16:18:59] scan: id=24bd, lang=Francais (Director's Commentary), 3cc=fra
[16:18:59] scan: checking subtitle 6
[16:18:59] scan: id=25bd, lang=Espanol (Director's Commentary), 3cc=spa
[16:18:59] scan: checking subtitle 7
[16:18:59] scan: id=26bd, lang=Francais, 3cc=fra
[16:18:59] scan: title 40 has 21 chapters
[16:18:59] scan: chap 1 c=0->0, b=0->83380 (83381), 219243 ms
[16:18:59] scan: chap 2 c=1->1, b=83381->137655 (54275), 127351 ms
[16:18:59] scan: chap 3 c=2->2, b=137656->265318 (127663), 332521 ms
[16:18:59] scan: chap 4 c=3->3, b=265319->304476 (39158), 98118 ms
[16:18:59] scan: chap 5 c=4->4, b=304477->412820 (108344), 271501 ms
[16:18:59] scan: chap 6 c=5->5, b=412821->494746 (81926), 180332 ms
[16:18:59] scan: chap 7 c=6->6, b=494747->605474 (110728), 276472 ms
[16:18:59] scan: chap 8 c=7->7, b=605475->753568 (148094), 363589 ms
[16:18:59] scan: chap 9 c=8->8, b=753569->891737 (138169), 321532 ms
[16:18:59] scan: chap 10 c=9->9, b=891738->950473 (58736), 140331 ms
[16:18:59] scan: chap 11 c=10->10, b=950474->1058407 (107934), 283347 ms
[16:18:59] scan: chap 12 c=11->11, b=1058408->1170470 (112063), 293478 ms
[16:18:59] scan: chap 13 c=12->12, b=1170471->1262424 (91954), 223447 ms
[16:18:59] scan: chap 14 c=13->13, b=1262425->1464486 (202062), 501709 ms
[16:18:59] scan: chap 15 c=14->14, b=1464487->1624705 (160219), 368618 ms
[16:18:59] scan: chap 16 c=15->15, b=1624706->1708201 (83496), 189362 ms
[16:18:59] scan: chap 17 c=16->16, b=1708202->1801173 (92972), 218241 ms
[16:18:59] scan: chap 18 c=17->17, b=1801174->2040269 (239096), 589673 ms
[16:18:59] scan: chap 19 c=18->18, b=2040270->2264853 (224584), 552798 ms
[16:18:59] scan: chap 20 c=19->19, b=2264854->2359687 (94834), 285326 ms
[16:18:59] scan: chap 21 c=20->20, b=2359688->2359874 (187), 176 ms
[16:18:59] scan: aspect = 0
[16:18:59] scan: decoding previews for title 40
[16:19:00] scan: audio 0x80bd: AC-3, rate=48000Hz, bitrate=448000 English (AC3) (5.1 ch)
[16:19:00] scan: audio 0x82bd: AC-3, rate=48000Hz, bitrate=384000 Francais (AC3) (5.1 ch)
[16:19:00] scan: audio 0x81bd: AC-3, rate=48000Hz, bitrate=192000 English (AC3) (Dolby Surround)
[16:19:00] scan: audio 0x83bd: AC-3, rate=48000Hz, bitrate=192000 English (AC3) (Director's Commentary 1) (2.0 ch)
[16:19:01] scan: 10 previews, 720x480, 23.976 fps, autocrop = 0/2/0/0, aspect 4:3, PAR 8:9
[16:19:01] scan: title (0) job->width:640, job->height:480
[16:19:02] libhb: scan thread found 1 valid title(s)
[16:19:02] macgui: ScanDone state received from fQueueEncodeLibhb
[16:19:02] macgui: processNewQueueEncode title list is: 1
[16:19:02] macgui: Preset: QuickTime
[16:19:02] macgui: processNewQueueEncode number of passes expected is: 2
[16:19:02] macgui: prepareJob exiting
[16:19:02] 2 job(s) to process
[16:19:02] starting job
[16:19:02] job configuration:
[16:19:02]  * source
[16:19:02]    + /dev/disk3
[16:19:02]    + title 40, chapter(s) 1 to 21
[16:19:02]  * destination
[16:19:02]    + /Volumes/Home/jacobanderson/Desktop/ANCHORMAN.m4v
[16:19:02]    + container: MPEG-4 (.mp4 and .m4v)
[16:19:02]      + chapter markers
[16:19:02]  * video track
[16:19:02]    + decoder: mpeg2
[16:19:02]      + bitrate 9800 kbps
[16:19:02]    + frame rate: same as source (around 23.976 fps)
[16:19:02]    + strict anamorphic
[16:19:02]      + storage dimensions: 720 * 480 -> 720 * 478, crop 0/2/0/0
[16:19:02]      + pixel aspect ratio: 8 / 9
[16:19:02]      + display dimensions: 640 * 478
[16:19:02]    + encoder: x264
[16:19:02]      + options: ref=3:mixed-refs=1:bframes=3:bime=1:weightb=1:b-rdo=1:direct=auto:me=umh:subq=5:analyse=all:8x8dct=1:trellis=1:no-fast-pskip=1:ref=1:subme=1:me=dia:analyse=none:trellis=0:no-fast-pskip=0:8x8dct=0:weightb=0
[16:19:02]      + bitrate: 2000 kbps, pass: 1
[16:19:02]  * audio track 0
[16:19:02]    + decoder: English (AC3) (5.1 ch) (track 1, id 80bd)
[16:19:02]      + bitrate: 448 kbps, samplerate: 48000 Hz
[16:19:02]    + mixdown: Dolby Pro Logic II
[16:19:02]    + encoder: faac
[16:19:02]      + bitrate: 160 kbps, samplerate: 48000 Hz
[16:19:02] encx264: keyint-min: 24, keyint-max: 240
[16:19:02] x264 options: Unknown suboption bime
[16:19:02] x264 options: Unknown suboption b-rdo
[16:19:02] encx264: encoding with stored aspect 8/9
x264 [warning]: width or height not divisible by 16 (720x478), compression will suffer.
x264 [info]: using SAR=8/9
x264 [info]: using cpu capabilities: MMX2 SSE2Fast SSSE3 Cache64
x264 [info]: profile Main, level 3.0
No accelerated IMDCT transform found
[16:19:02] sync: expecting 139976 video frames
[16:19:03] reader: first SCR 146
[16:19:03] mpeg2: "Chapter  1" (1) at frame 0 time 10510
[16:19:03] sync: first pts is 10510
[16:19:03] a52_syncinfo failed
[16:19:03] a52_syncinfo ok
[16:19:03] sync: video time didn't advance - dropped 10 frames (delta 408 ms, current 52549, next 53300, dur 751)
[16:19:52] mpeg2: "Chapter  2" (2) at frame 5254 time 19692923
[16:20:24] mpeg2: "Chapter  3" (3) at frame 8315 time 31182401
[16:21:40] mpeg2: "Chapter  4" (4) at frame 16302 time 61164353
[16:22:04] mpeg2: "Chapter  5" (5) at frame 18662 time 70023203
[16:23:11] mpeg2: "Chapter  6" (6) at frame 25171 time 94455611
[16:24:03] mpeg2: "Chapter  7" (7) at frame 29494 time 110683823
[16:25:15] mpeg2: "Chapter  8" (8) at frame 36122 time 135563678
[16:26:49] mpeg2: "Chapter  9" (9) at frame 44854 time 168341423
[16:28:14] mpeg2: "Chapter 10" (10) at frame 52570 time 197305358
[16:28:50] mpeg2: "Chapter 11" (11) at frame 55942 time 209963003
[16:29:54] mpeg2: "Chapter 12" (12) at frame 62735 time 235461476
[16:31:00] mpeg2: "Chapter 13" (13) at frame 69786 time 261929918
[16:31:53] mpeg2: "Chapter 14" (14) at frame 75143 time 282038006
[16:33:52] mpeg2: "Chapter 15" (15) at frame 87186 time 327245168
[16:35:22] mpeg2: "Chapter 16" (16) at frame 96031 time 360446336
[16:36:07] mpeg2: "Chapter 17" (17) at frame 100586 time 377545418
[16:36:55] mpeg2: "Chapter 18" (18) at frame 105818 time 397185038
[16:38:53] mpeg2: "Chapter 19" (19) at frame 119970 time 450308108
[16:40:43] mpeg2: "Chapter 20" (20) at frame 133238 time 500112863
[16:41:34] dvd: end of cell 20 at block 2359688
[16:41:34] mpeg2: "Chapter 21" (21) at frame 140086 time 525818541
[16:41:34] reader: done. 2 scr changes
[16:41:34] sync: got 140090 frames, 139976 expected
[16:41:34] work: average encoding speed for job is 103.622780 fps
[16:41:35] mpeg2 done: 140101 frames
[16:41:35] render: lost time: 0 (0 frames)
[16:41:35] render: gained time: 0 (0 frames) (0 not accounted for)
x264 [info]: slice I:1294  Avg QP:17.96  size: 48566  PSNR Mean Y:44.97 U:47.44 V:48.52 Avg:45.69 Global:45.05
x264 [info]: slice P:43804 Avg QP:19.67  size: 18507  PSNR Mean Y:42.51 U:45.90 V:46.71 Avg:43.34 Global:42.54
x264 [info]: slice B:94995 Avg QP:21.37  size:  6083  PSNR Mean Y:41.84 U:45.81 V:46.80 Avg:42.77 Global:42.12
x264 [info]: consecutive B-frames:  4.3%  9.4% 11.9% 74.4%
x264 [info]: mb I  I16..4: 16.1%  0.0% 83.9%
x264 [info]: mb P  I16..4: 15.6%  0.0%  0.0%  P16..4: 78.2%  0.0%  0.0%  0.0%  0.0%    skip: 6.2%
x264 [info]: mb B  I16..4:  3.3%  0.0%  0.0%  B16..8: 34.4%  0.0%  0.0%  direct:31.0%  skip:31.3%  L0:31.5% L1:43.7% BI:24.8%
x264 [info]: final ratefactor: 20.17
x264 [info]: direct mvs  spatial:99.0%  temporal:1.0%
x264 [info]: SSIM Mean Y:0.9763744
x264 [info]: PSNR Mean Y:42.078 U:45.852 V:46.789 Avg:42.978 Global:42.270 kb/s:1987.20
[16:41:35] starting job
[16:41:35] job configuration:
[16:41:35]  * source
[16:41:35]    + /dev/disk3
[16:41:35]    + title 40, chapter(s) 1 to 21
[16:41:35]  * destination
[16:41:35]    + /Volumes/Home/jacobanderson/Desktop/ANCHORMAN.m4v
[16:41:35]    + container: MPEG-4 (.mp4 and .m4v)
[16:41:35]      + chapter markers
[16:41:35]  * video track
[16:41:35]    + decoder: mpeg2
[16:41:35]      + bitrate 9800 kbps
[16:41:35]    + frame rate: same as source (around 23.976 fps)
[16:41:35]    + strict anamorphic
[16:41:35]      + storage dimensions: 720 * 480 -> 720 * 478, crop 0/2/0/0
[16:41:35]      + pixel aspect ratio: 8 / 9
[16:41:35]      + display dimensions: 640 * 478
[16:41:35]    + encoder: x264
[16:41:35]      + options: ref=3:mixed-refs=1:bframes=3:bime=1:weightb=1:b-rdo=1:direct=auto:me=umh:subq=5:analyse=all:8x8dct=1:trellis=1:no-fast-pskip=1
[16:41:35]      + bitrate: 2000 kbps, pass: 2
[16:41:35]  * audio track 0
[16:41:35]    + decoder: English (AC3) (5.1 ch) (track 1, id 80bd)
[16:41:35]      + bitrate: 448 kbps, samplerate: 48000 Hz
[16:41:35]    + mixdown: Dolby Pro Logic II
[16:41:35]    + encoder: faac
[16:41:35]      + bitrate: 160 kbps, samplerate: 48000 Hz
[16:41:35] encx264: keyint-min: 24, keyint-max: 240
[16:41:35] x264 options: Unknown suboption bime
[16:41:35] x264 options: Unknown suboption b-rdo
[16:41:35] encx264: encoding with stored aspect 8/9
x264 [warning]: width or height not divisible by 16 (720x478), compression will suffer.
x264 [info]: using SAR=8/9
x264 [info]: using cpu capabilities: MMX2 SSE2Fast SSSE3 Cache64
[16:41:35] reader: first SCR 146
[16:41:35] mpeg2: "Chapter  1" (1) at frame 0 time 10510
x264 [info]: profile High, level 3.0
No accelerated IMDCT transform found
[16:41:40] a52_syncinfo failed
[16:41:40] a52_syncinfo ok
[16:41:40] sync: expecting 139976 video frames
[16:41:40] sync: first pts is 10510
[16:41:40] sync: video time didn't advance - dropped 10 frames (delta 408 ms, current 52549, next 53300, dur 751)
[16:42:44] mpeg2: "Chapter  2" (2) at frame 5254 time 19692923
[16:43:28] mpeg2: "Chapter  3" (3) at frame 8315 time 31182401
[16:45:15] mpeg2: "Chapter  4" (4) at frame 16302 time 61164353
[16:45:45] mpeg2: "Chapter  5" (5) at frame 18662 time 70023203
[16:47:15] mpeg2: "Chapter  6" (6) at frame 25171 time 94455611
[16:48:20] mpeg2: "Chapter  7" (7) at frame 29494 time 110683823
[16:49:52] mpeg2: "Chapter  8" (8) at frame 36122 time 135563678
[16:51:53] mpeg2: "Chapter  9" (9) at frame 44854 time 168341423
[16:53:42] mpeg2: "Chapter 10" (10) at frame 52570 time 197305358
[16:54:30] mpeg2: "Chapter 11" (11) at frame 55942 time 209963003
[16:55:58] mpeg2: "Chapter 12" (12) at frame 62735 time 235461476
[16:57:30] mpeg2: "Chapter 13" (13) at frame 69786 time 261929918
[16:58:44] mpeg2: "Chapter 14" (14) at frame 75143 time 282038006
[17:01:28] mpeg2: "Chapter 15" (15) at frame 87186 time 327245168
[17:03:33] mpeg2: "Chapter 16" (16) at frame 96031 time 360446336
[17:04:39] mpeg2: "Chapter 17" (17) at frame 100586 time 377545418
[17:05:53] mpeg2: "Chapter 18" (18) at frame 105818 time 397185038
[17:08:59] mpeg2: "Chapter 19" (19) at frame 119970 time 450308108
[17:11:51] mpeg2: "Chapter 20" (20) at frame 133238 time 500112863
[17:12:54] dvd: end of cell 20 at block 2359688
[17:12:54] mpeg2: "Chapter 21" (21) at frame 140086 time 525818541
[17:12:54] reader: done. 2 scr changes
[17:12:54] sync: got 140090 frames, 139976 expected
[17:12:54] work: average encoding speed for job is 74.748421 fps
[17:12:54] mpeg2 done: 140101 frames
[17:12:54] render: lost time: 0 (0 frames)
[17:12:54] render: gained time: 0 (0 frames) (0 not accounted for)
x264 [info]: slice I:1294  Avg QP:17.62  size: 49222  PSNR Mean Y:45.68 U:47.55 V:48.72 Avg:46.28 Global:45.74
x264 [info]: slice P:43806 Avg QP:19.53  size: 18540  PSNR Mean Y:43.50 U:46.49 V:47.37 Avg:44.27 Global:43.68
x264 [info]: slice B:94993 Avg QP:21.18  size:  6156  PSNR Mean Y:42.71 U:46.24 V:47.31 Avg:43.57 Global:43.06
x264 [info]: consecutive B-frames:  4.3%  9.4% 11.9% 74.4%
x264 [info]: mb I  I16..4:  5.8% 34.1% 60.1%
x264 [info]: mb P  I16..4:  3.0% 15.6%  5.5%  P16..4: 32.8% 23.6% 12.5%  2.1%  1.2%    skip: 3.7%
x264 [info]: mb B  I16..4:  3.7%  0.0%  0.0%  B16..8: 38.3%  3.2%  2.8%  direct:18.6%  skip:33.3%  L0:33.2% L1:36.0% BI:30.8%
x264 [info]: 8x8 transform  intra:47.3%  inter:57.0%
x264 [info]: direct mvs  spatial:89.4%  temporal:10.6%
x264 [info]: ref P L0  73.9% 15.4% 10.7%
x264 [info]: ref B L0  84.6% 15.4%
x264 [info]: SSIM Mean Y:0.9805547
x264 [info]: PSNR Mean Y:42.982 U:46.334 V:47.344 Avg:43.815 Global:43.262 kb/s:1999.79
[17:12:54] libhb: work result = 0