I tried to translate the GUI Handbrake settings for ipod that I know work just fine.
These are the settings in the GUI version that work fine.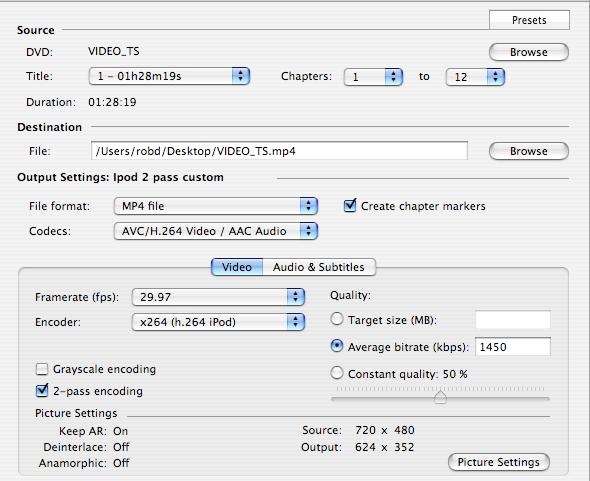 This is my equivalent cmd line:
Code: Select all
screen -d -m /home/robd/video/HandbrakeCLI -i $videoTSdir -o /home/robd/video/$movieName$i.ipod.mp4\
     -t $i -2 -B 160 -R 48 -E AAC -e x264b30 -f MP4 -m -b 1450 -x\ 
     frameref=1:bframes=0:nofast_pskip:subq=6:partitions=p8x8,p8x4,p4x8,i4x4:qcomp=0:me=umh:nodct_decimate`

Is there something I am missing? Files encoded from dvd via the GUI setting above work just fine. The cmd line versions says "cannot copy to ipod because it's not playable"
I am doing the CLI encoding on an ubuntu box, but I've never had problems before with encoding via the CLI.